You need to know…This page may contain affiliate links. If you click and purchase, we may receive a small commission
at no extra cost to you. We only recommend products and services that we have personally used and/or vetted.
It's finally here. Embarkation Day!
Many first-time cruisers are unfamiliar with embarkation day, let alone know what an embarkation day bag is. The embarkation process for a cruise is like preparing to board a plane. You arrive at the port, check your luggage with the porters, and then head through security to board the ship.
For many of us, after you carefully plan and collect all the items we want to pack for our cruise (check out our cruise must-pack list), we travel to the cruise port with great anticipation of our departure. But once you've handed your bag(s) over to the porter, it can be hours before you see them again. Sometimes you won't see them until after it's time for dinner that first day on board.
Wait, what? So you're saying I must wear the same clothes I boarded the ship with all day??
Exactly! An embarkation day bag will come in handy here.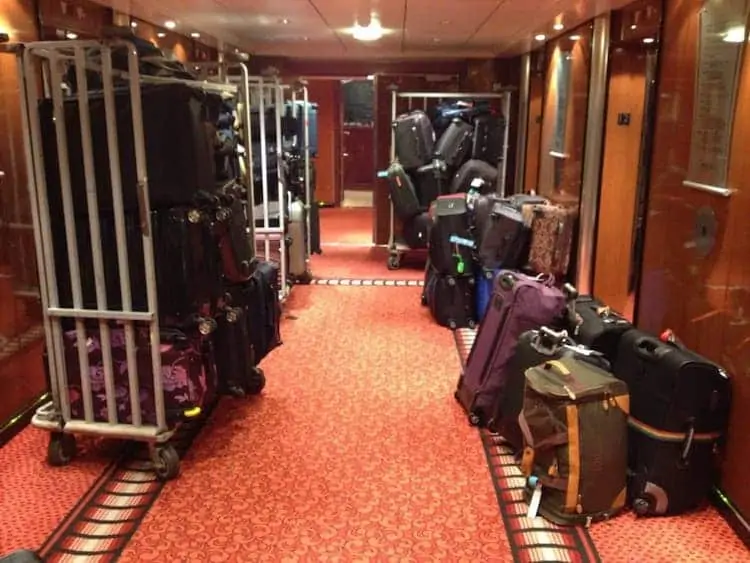 An Embarkation Day Bag: What Is It?
Very simply, an embarkation day bag (or cruise boarding bag) is similar to a smaller carry-on bag that you may use (or did use) when you flew in. Instead of checking that bag with the porters, you can keep it during the entire boarding and embarkation process, allowing you to carry the items you might need until your luggage arrives in your stateroom later that day.
Why Do I Need a Cruise Carry-on Bag?
Your first day on board will be much smoother and a lot less stressful if you take the time to plan and prepare to carry on an embarkation day bag. Remember that the cruise line is still trying to clean the ship from the previous cruise, which can impact many things. So the earlier you board your cruise, the more time there may be before you get your larger bags.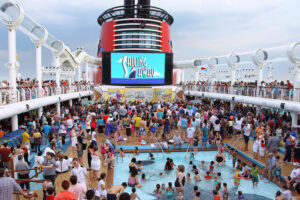 What if you want to swim or layout by the pool? Unless you wore your swimsuit under your clothes (an option), you may be out of luck or, worse yet – sunburned on day one because you didn't pack your sunscreen. What will you do if you want to change for your first dinner on board but don't have your luggage yet? It looks like you're wearing the same clothes from this morning.
If you take the time to plan, you can avoid many hassles by utilizing an embarkation day bag.
What kind of cruise day bag should I use?
There are several things to consider when choosing the best carry-on bag for a cruise, but almost any carry-on bag will do. What you want to prepare for or do when you first get on board will be the most significant influence on your choice for an embarkation day bag. Who are you packing it for may also be a consideration? Should you have an embarkation day bag for each person in your party, or would a slightly larger one do for your entire family?
Here are several embarkation day bag types for you to consider that we think can serve as the best carry-on bag for a cruise*.

What do you put in an embarkation bag??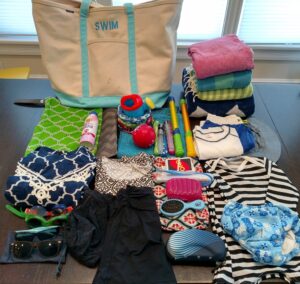 Pretty much whatever you think you need. It's best to keep it simple, though. Suppose you try to cover every conceivable situation you might as well be carrying on your big luggage. Here are some things to consider when preparing to pack your embarkation day bag:
Swimsuit/Wrap:
The pools are practically empty on embarkation day, making it the perfect time to take a dip if you bring your bathing suit. Don't forget your sunscreen too.
Change of Clothes:
Having a change of clothes probably should be a must for an embarkation day bag, and it will give you the option to change for dinner or just get cleaned up after a long travel day.
Essential items:
Toothpaste/toothbrush, deodorant, makeup, prescription medications, and charging cables are just a few of the vital things you may want to consider in your bag. Especially if it's been a hot day and you want to clean up. Delayed bags will make having a carry-on bag can also serve as a safety net.
Deck of Cards or a Book:
Scheduled cruise activities usually don't start until the evening. Make sure you have something to entertain yourself (and your travel companions) in the interim. Here are some first-day cruise ideas to do after boarding if you need something to do.
While you probably have these on you anyway, it's a good idea to keep a photocopy of them in your embarkation day bag just in case the originals get misplaced.
It's really up to you what to pack in your embarkation day bag – it's a personal decision. In our minds, it is one of the most thoughtful decisions you can make to kick off your next cruise adventure.
Bonus Tip – What Does the Cruising Know it All do?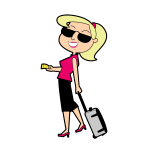 If you're like us, we aren't fond of carrying on anything when we fly, so how do we use an embarkation day bag? First, since we always fly to our departure port the day before embarkation, we don't need to pack our embarkation day bag until the next morning. That means we can fill an empty bag (typically a duffel bag) in our checked luggage and load it up with the things we need.
*This page may contain affiliate links. If you click and purchase, we may receive a small commission at no extra cost to you. We only recommend products and services we have personally used or vetted.