You need to know…This page may contain affiliate links. If you click and purchase, we may receive a small commission
at no extra cost to you. We only recommend products and services that we have personally used and/or vetted.
It happens every time you board a cruise ship. The bars and activities all close, and your captain or cruise director announces it will start soon: The Muster Drill! So, what exactly is it, and what do you need to know about it?
What is a Muster Drill?
The muster drill is a mandatory lifeboat and safety drill on every cruise line. This drill reviews how to evacuate the ship in an emergency. You will learn what to do if an emergency happens during the muster drill. Some things you will learn are where to muster (the nautical term for assembling in a specific area) and how to put on a lifejacket. At a designated muster station, the crew spends about 30 minutes walking guests through instructions and safety tips while on board.
If you try to skip out, please keep in mind that the cruise line reserves the right to remove you from the ship (with no refund) if you do not comply.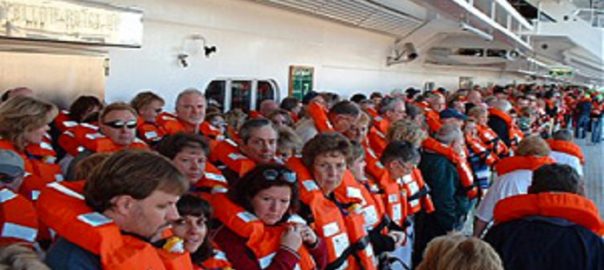 Where are the Muster Stations?
A muster station (sometimes called a muster point or an assembly station) is a meeting area on the ship where a guest is assigned to go in the event of an emergency. There are signs all over the ship, including staterooms, which show passengers the best route to take; however, crew members will also direct guests as needed.
Your stateroom location determines your assigned muster station. You can find your assembly location on the cruise stateroom card. It's a good idea to see if your muster station will be the same as your children or other traveling companions if they are staying in a different stateroom before booking.
When is Muster Time?
According to international law, these muster drills are required and must happen within 24 hours of departure from the port. However, most ships conduct them before the ship leaves the dock.
The drill usually takes place about an hour before the ship leaves port. So, if your ship departs at 4:00 PM, all guests must board by 2:00 PM, and a muster drill starts around 2:30 to 3:00 PM. Most ships like to get it out of the way as soon as possible.
Don't worry about missing the muster drill because the crew will announce it across the ship-wide speakers before it occurs.
What is the Muster Process?
Not long after the last passengers are on board, the captain or cruise director will come over the ship-wide speakers in every stateroom to inform everyone.
All guest activities and venues will shut down before the drill (15-30 minutes prior) to ensure that no guests or crew members miss the announcement when the training occurs.
The captain sounds the emergency signal horn, identified by seven short blasts followed by one long blast.
The crew will direct passengers to muster stations. If someone in your family requires elevators or assistance to get to their muster station, a crew member can assist.
At each muster station, a crew member will scan cruise stateroom cards to account for all passengers.
The crew reviews essential safety information for about 30 minutes, such as how to put on life jackets and areas where smoking is allowed. Passengers don't have to wear lifejackets on most cruise lines.
Are There Any Other Muster Tips?
Don't try to skip it. If you miss the drill for any reason, the crew may require you to attend a make-up session. Failure to comply can result in removal from the ship.
Pay Attention. It's easy to ignore safety drills, but don't! Even if you have been on multiple cruises, remember that criteria or procedures may change regularly.
Arrange a meeting point for after the drill with others in your traveling party who have a separate muster station.
For young children, it's always a good idea to make sure they know what will happen. Comparing it to a fire drill at school can help them understand it better.
Take the stairs during the drill to avoid the crowd. Or wait until most people leave to avoid a line at the elevators.