You need to know…This page may contain affiliate links. If you click and purchase, we may receive a small commission
at no extra cost to you. We only recommend products and services that we have personally used and/or vetted.
There are many reasons to pack light on a cruise vacation, but can you pack for a cruise with only a carry-on?
The answer is you can! It can save you on checked baggage fees at the airport and reduce clutter in your cabin. Minimalist packing takes careful planning and an easy-going attitude but can reduce vacation stress if done right. Here's how to pack for a cruise with only a carry-on.
How to pack for a cruise with only a carry-on
If you want to cruise light and not have to worry about lugging around oversized bags or wait for them to show up in your cruise cabin after you board, then packing just using a carry-on is for you. Follow these
Choose Your Luggage Wisely
Watch the Width
Wheeled duffel bags are lighter and roomier but often exceed the dimensions airlines will allow (22" x 14" x 9"). Aim for a luggage option that offers the most cubic inches of packing space.
Avoid Hard-Sided Bags
They are typically heavier than their soft-sided counterparts, and their clam-shell design makes them more challenging to fill when packing for a cruise.
Limit the Liquids
Pack Fewer Travel-Size Toiletries
TSA only allows one quart-sized bag of liquids, aerosols, gels, creams, and pastes through airport security. Each item must be 3.4 oz (100 ml) or less.[1]
Use an All-In-One
All those separate bottles of shampoo, conditioner, and body wash take up space. Consider using the free soap/shampoo in your cruise ship cabin shower. If not, try an all-in-one hair and body wash.
Pack it in Pocket Form
You can buy various health and beauty products such as pocket-sized wipes. From shaving cream to insect repellent, these convenient sheets are carry-on luggage-friendly and easy to use.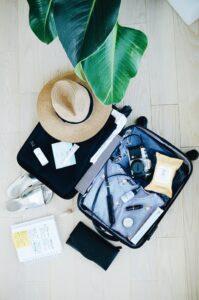 Cut Back on Cosmetics
Tropical humidity can cause make-up to seep into your pores. Embrace your natural beauty and spend your cruise days focused on fun. If you want to get fancy for formal nights, select a few smaller and neutral-toned essentials for your trip.
Dial Back on the Devices
Leave the Laptop Behind
Many travelers feel more relaxed on vacation when they leave behind their laptops and other electronic devices. Instead of keeping updated on e-mails and social media, take the time to unwind.
Eliminate the e-reader
Like reading by the pool or on the beach? Most ships have an onboard library where you can borrow books during your trip. Go ahead and leave your books or e-reader at home.
Embrace the Zip-Top Storage Bags
Compress Your Clothes
Use gallon-size food storage bags to pack your clothes. Squeezing the air out of these bags will reduce the size of each item, which means you can pack more outfits and extras.
Extra Storage
These convenient, waterproof bags are reusable. Are you heading to the beach? You can throw your phone and wallet into a zip-top bag to help keep out the sand and sea.
Replace Bulkier Bags
Zip-top bags are more flexible and lighter than most electronics, toiletry, and cosmetic bags but can keep your stuff together.
Plan for the Plane
Dress in Bulk
Whether it's your hiking shoes or jacket, you're bound to have some more oversized items you want to bring. If possible, wear these to the airport instead of packing them in your carry-on luggage.
Bring Your Backpack
A backpack is usually larger and more versatile than a purse or laptop case and works well as your shore excursion and boarding bag. 
Clothing Considerations
Focus on Fabrics
When considering clothing options, go for lightweight fabrics. Cotton, Linen, and Jersey are easier to pack and less likely to need extra care than thicker fabrics.
Consider Different Combinations
When packing for a cruise with fewer articles of clothing, it's important to select pieces that you can mix up. Neutrals go a long way when switching up your selections.
Evaluate Your Activities
When you pack light, you will want to tailor your packing to fit your activities. If your shore excursions include a mountain trek, consider lightweight hiking shoes. Are you visiting a tropical rainforest? Pack lightweight ponchos. Want to go formal? Consider renting a tuxedo from the cruise line.
Do Laundry Onboard
Many cruise lines, such as Carnival, Disney, and Princess, offer self-serve laundry facilities on board for their guests. You can also wash your swimsuit in your stateroom sink.
What to Pack For a Cruise
Clothing
Underwear/BraSocks
T-Shirts
Shorts
Nice Pants/Capris (no jeans)
Hat/Sunglasses
Pajamas/Sleepwear
Light Jacket or Sweater
Poncho/Rain jacket
Flip-flops/Sandals
Walking Shoes
Sunglasses
Glasses/Contacts/Solution
Swimsuit & Cover-up
Casual Dresses or Button-Down Shirts
Dressy Shoes
Dressy Outfit (for the formal night)
Toiletries
Toothbrush/Toothpaste
Floss
Shampoo/Conditioner
Soap or Body Wash
Razor/Shaving Cream
Nail Trimmers
Feminine Hygiene Products
Sunblock
Face/Body Lotion
Deodorant
Insect Repellant
SPF Lip Balm
Hairbrush/Comb
Hand Sanitizer
Other
Cell Phone/Charger
Small Bills (for tips)
Backpack/Daypack
Personal Medications
Pain Reliever
Cold Medication
Anti-Nausea Medication
Water Bottle
Small First Aid Kit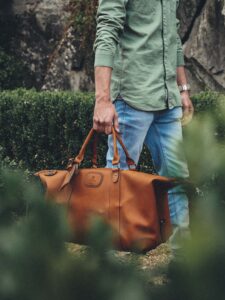 Organize Your Carry On
Make Separate Stacks
Organize your potential items by priority (high, moderate, and low). It will help you determine how many low-priority things (if any) you will be able to take with you. You can always rearrange your carry-on bag for a better fit later.
Take Your Time
Never wait until the night before to pack your carry-on for a cruise. You're more likely to get stressed out and forget something if you rush. It's also a good idea to leave your carry-on upright overnight. Sometimes, you will find extra space at the top of your luggage just by letting gravity work its magic.
Stuff Your Shoes
Save space by putting smaller items inside your shoes. Rolled-up socks fit perfectly inside many shoes and help them keep their shape during travel.
Save Exterior Pockets
You can save the exterior pockets of your bag for items you will need to access while at the airport. Keep your liquids bag and poncho/umbrella in an outside compartment. Do not store anything fragile in these pockets.
Get our free printable cruise packing list here.