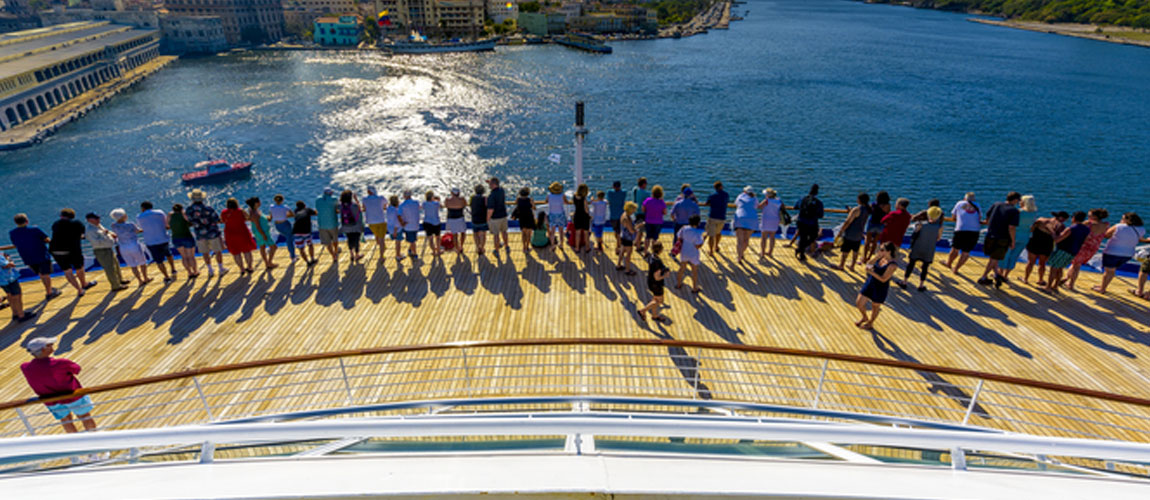 The day you have been planning and waiting for has finally arrived – cruise embarkation day!  You've travelled to your port city, you've been through the check-in process, and you're finally on board the ship of your dreams, ready to set sail!  However, most passengers have a few hours before they can get into their staterooms or get their luggage, and embarkation is still late in the evening. What do you do to fill the time?  With a little advance planning and these traveler tips, you can begin enjoying your cruise even with the ship tied to the dock.
Use embarkation day to prepare
Explore the ship – Cruise ships are getting larger and larger all the time, and finding your way around making it a challenge with so many decks and passageways. Why not take this time to acquaint yourself with the layout of the ship and learn the most convenient routes to dining, entertainment and amenities?  You can download maps of the ship in advance, or ask for one at check in.  You'll know your room number even if you can't get into it yet, so start there. Most ships have a large formal dining area or large theater space at the rear (stern) of the ship, exercise facilities or a spa near the front (bow) and retail shopping in the center (midship).  Cruise lines are constantly one-upping each other, so what you have on your ship may vary widely.  Take the time to find out what is unique to your vessel (hint: ask a crewmember) and be on the lookout for quiet nooks to enjoy a book or a few hours alone.  Keep in mind that the starboard (right) and port (left) sides of a ship are not always mirror images, so don't assume you can travel the same path on either side of the ship. Getting the lay of the land before you embark can save time and frustration later.
Finalize excursions – Most people book their shore excursions well in advance, and with some cruise lines, it is the only option available.  But, for others, waiting until they are on-board allows them to be certain of the weather that week and book tours accordingly. Cruise lines often change excursions at the last minute, and passengers cancel excursions for a variety of reasons, so there may be a spot on that rafting trip you had your eye on after all!
If you are interested in visiting some out-of-the-way destinations not on the ship's itinerary, the excursion staff is still the best place to start. They can tell you more about what destinations are popular and which to avoid, as well as offering advice on avoiding scams and which tour operators they trust. The excursion staff will be their busiest on embarkation day, so get to the desk as early as possible.
Book on-board amenities – There's so much to do on board cruise ships these days, you might never want to leave! Waiting for embarkation is the perfect time to visit the ship's spa for a tour and to book the services that appeal to you most. Consider booking a vigorous massage after a strenuous excursion such as hiking or a weight-loss treatment near the end of the week to help counteract the amazing desserts you are sure not to resist. Stop by the salon to book a mani/pedi and new hairstyle so you look your best for any formal dining plans.  Each ship has unique amenities, including mini-golf, skeet shooting and even ice skating, all of which require advanced registration.  Use your time on embarkation day to learn what's new and unique on your ship.
Make dining reservations – Most cruises offer either traditional dining, where everyone eats in the main dining room at one of two set meal times, or flexible dining, where you visit different restaurants throughout the ship.  For flexible dining, be aware that reservations are recommended, and required if you want to dine at the most popular spots. While most cruisers make reservations in advance, visiting each option may change your mind about where and when to eat. You may also notice a particularly romantic table that is worth waiting for. Like excursions, cancellations do happen, so check back often if you have your heart set on something that wasn't available pre-departure.  For traditional dining, embarkation day is the time to change your meal time between early and late if you are unhappy with your assignment. You should also ask about the dining schedule for the week, as some cruise lines offer a mix of formal and casual nights.  You might want to skip a casual night to order a pizza and dine al-fresco, or rent a tuxedo for a formal night and really live it up!
Take this time to relax
Hit the hot tub – You've been travelling a while – and standing in a lot of lines – just to get on board.  What better way to pass the time until your room is ready than relaxing in a hot tub? Because hot tubs tend to get crowded after you embark, day one is the best time for soothing sore muscles.  Pack a bathing suit and sunblock in your carry-on and you are ready for a soak: the ship will offer towels and a place to change. Sitting in a hot tub is also the perfect cover for those of us who enjoy people-watching, a great embarkation day activity because everyone is on the move!
Head to the bar – The sun is shining, breezes are blowing, and the excitement of a vacation lies ahead, but you're still stressed out.  Air travel, parking, worrying if you left the iron on…it can be hard for some of us to relax and let go. Thankfully, cruise ships have specialists on board to help with the transition: Bartenders. Nothing helps to melt away stress like a colorful, fruity drink with an umbrella on it, with or without the alcohol. Saddling up to the bar before you embark gives you the opportunity to sit and talk to the bartender about where to go and what to see during your itinerary.  You'll likely be surrounded by experienced travelers who can also make suggestions.
Grab a bite to eat – Your room may not be ready, and your luggage may not have arrived yet, but one thing is for certain: there is food to eat somewhere on board. Whether you prefer casual poolside dining or an intimate restaurant experience, your ship is sure to have plenty of options available. Dining is a big part of the cruise experience, so there's no time like the present to get started.  Popular eateries tend to be less crowded on embarkation day, so it might be your only chance to hit the hottest spot on board.
Enjoy the spa – Time in the spa can often book up during a cruise, but the day of embarkation is generally pretty quiet.  Head straight to the spa and see what is available immediately. It's a great way to unwind, and since all you'll need is a bathrobe, not having your luggage is no problem. You may even get a reduced rate for a service if you agree to be a model for arriving guests taking a tour of the spa. People will be staring, but you'll be wrapped in seaweed without a care in the world!
Get some exercise – Cruise ships offer amazing exercise facilities that rival the best gyms on land. As passengers start counting the calories they have collected at the buffet, it can get harder and harder to find open exercise equipment. Embarkation day offers the perfect opportunity to jump-start your workout routine and get to know the equipment and classes the ship offers.  Working up a sweat helps to cut stress, allowing you to relax faster and get to sleep easier once the ship embarks and heads to sea.
So whether you choose to prepare or relax, you should definitely consider embarkation day the first day of your cruise. Don't waste time sitting and stressing over how long it is taking for your luggage to arrive; pack a few essentials in your carry-on and start enjoying yourself immediately!